The Best in Wrapping Services for Brisbane
Vibrant and eye-catching fleet vehicle vinyl wrap signage is an extremely powerful advertising mechanism. Consumer retention levels are far greater with vehicle signage as the image is seen for longer and can't be switched off, channel changed, turned down or closed off. And that is for 24 hours 7 days a week. All while the vinyl wrap protects the paint on your fleet vehicles so when the vinyl is removed the paint is as good as new so you receive a higher resale value. How good is that!
Wrapping to the Rescue
Our vinyl wrap Brisbane service is the perfect way to showcase your business without breaking the bank. Simply put, your fleet vehicles will be branding and advertising your business wherever they go. You will be seen at a fraction of the cost of a huge marketing campaign. A 3M study demonstrated a single vehicle partially or fully wrapped delivered $130,000 worth advertising value over a 4 year period – which means a great design can pay for itself in less than 1 month.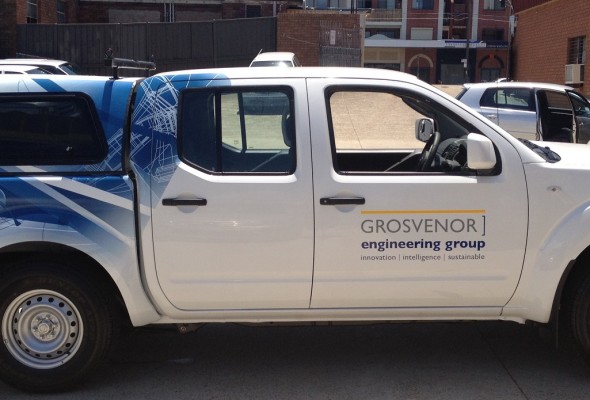 WE PROVIDE A RANGE OF SIGNAGE PRODUCTS

We help you put together a package that will allow you to generate the value that vehicle fleet branding can bring to your business. If you're looking to save on huge marketing budgets but still get your name out there, then you're in the right place.
We pride ourselves on creating strong long-term partnerships with all our vehicle fleet signage customers, so get in touch and let's see how we can design something great for your fleet.
What We Do
Our vinyl wrap Brisbane service provides graphic design expertise to help deliver a powerful branding message across your fleet. Our team understands which parts of the vehicle generate the greatest branding impact given the frequency they are seen when your vehicle travels on the road. So you can target these areas with your vinyl wrap or vinyl signage to cost effectively maximise your branding impact while delivering a great advertising return across your fleet of vehicles.
We only use the very best vinyl wrap Brisbane has to offer. You will enjoy premium, top of the line wrapping that offers superior protection for any fleet vehicle. If you have painted your fleet vehicles in the past then seriously consider wrapping instead as it is far cheaper than a paintjob and can be completed in a fraction of the time. The vinyl wrap also comes off easily to reveal a well-protected paint coat underneath which is a much cheaper option than having to repaint the vehicle to get it back to its original paint colour.
What We Offer
Our team can provide you with the best fleet vehicle signage Brisbane have available as our vehicle wrapping services are second to none. Contact us today to get a free quote and to find out more about what we can do for your fleet. We offer the best quality and prices for vinyl wrapping and fleet vehicle signage to Brisbane customers.
We are experts at helping companies look great !